MESSAGE FROM THE PRINCIPAL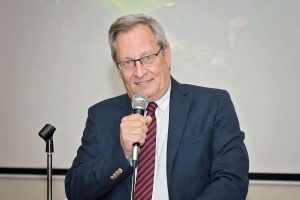 23 June 2020
COVID-19 LETTER 2
Dear Parents and Guardians of Christiaan de Wet
After the first case of Covid-19 has been confirmed at our school, the circuit manager of the Department of Education visited the school and in collaboration with the principal, it was decided that the following procedures will be followed:
An accredited service provider will decontaminate the school and hostel on 24 June. A certificate will be issued to prove that decontamination took place. Due to this the school may not be used for 48 hours.
Therefore the school will close on 23 June for learners and staff. The school will start again on Monday, 29 June 2020, for grade 7 and 12 at 07:30. These are standard operational procedures, prescribed by the Department of Education. As a precautionary measure for the safety of our children, nineteen learners have been quarantined at a facility provided by the Department of Health.
We urgently appeal to all parents and guardians to enforce the precautionary Covid-19 measures at home and in the community, namely: social distancing, hand washing, wearing of masks.
Plans to receive back the learners of grade R, 1, 2, 3, 6, 10 and 11 are still in progress and we trust that we will be able to resume their schooling on 6 July 2020.  More information will be communicated to you in due course. Be assured that the school will still do everything possible to ensure the safety of your children as well as quality education and catch-up programmes.
Warm regards
---
5 June 2020
ATTENTION: ALL PARENTS OF CHRISTIAAN DE WET
The teachers of the grade 7s and 12s are awaiting the return of our learners. With less than 4 days before they return to school, we once again want to confirm that our school has already been deep cleaned. Teachers, as well as all non-teaching staff have been orientated regarding all issues concerning Covid-19 and all policies are in place to receive your child. There are 4 weeks left before we will receive back all learners from the Pre-Primary, grade 1, grade 2, grade 3, grade 6, grade 10 and grade11.
Therefore we now need the urgent help and co-operation of you as parents.  The issues arising from the Covid-19 pandemic are not only bound to the school environment.  It is imperative that parents engage with their children and have serious conversations regarding the health and safety of YOUR OWN child, as well as that of other children.
Please assist us, by discussing with your child, the importance of:
Wearing a mask AT ALL TIMES while they are at school
(We strongly advise grade 1-6 learners to "practise" wearing masks at home for short periods of time, so that they are used to it when they return to school.)
Keeping their social distance from their friends and teachers. (1.5 m)
Sanitizing and washing their hands regularly
NOT using hands when they cough or sneeze, but cough and sneeze into their elbows
Not to use someone else's stationery, mask, or other belongings. (As parents, please see to it, that your child has the correct stationery before returning to school, as borrowing in class WILL NOT BE ALLOWED!)
A learner who understands that lives can be saved when applying the above numbers 1-5, will be a learner that will, NEVER, test the boundaries of the school system. Learners also need to understand that if safety measures, put in place by the Basic Department of Education as well as the School Governing Body, are not adhered to, parents and learners can be called for Disciplinary Hearings.
PLEASE KEEP YOUR CHILD AT HOME IF he/she shows any of the following symptoms:  high temperature; constant coughing; body aches, sore throat, headaches, gastrointestinal symptoms, runny tummy or difficulty to breathe.
It is also very important to complete a compulsory comorbidities (underlying illnesses) form. This form will be available on the school's website: www.dewetsdorp.co.za, on Facebook as well as whatsapp groups. Simply follow the link:  https://forms.gle/9ZVMv9KJ1DYzfc7H7 This form should be completed by PARENTS and not learners.
Please keep safe.
Mr JH Potgieter
AANDAG:  ALLE OUERS VAN CHRISTIAAN DE WET LEERDERS
Die personeel sien uit om ons graad 7 en graad 12-leerders op Maandag, 8 Junie by die skool te verwelkom.  Met die oog daarop, wil ons net die reëlings vir die terugkeer bevestig.  Die skool is gedisinfekteer, diep skoongemaak en gesaniteer.  Onderwysers, sowel as nie-akademiese personeel het opleiding en oriëntasie ontvang rakende die Covid-19 kwessies en sodanige beleide is in plek.
Daar is vier weke oor voordat die pre-primêre kindertjies sowel as graad 1, graad 2, graad 3, graad 6, graad 10 en graad 11 terugkeer op 6 Julie (hierdie datums is steeds onderhewig aan verandering soos van die Departement van Onderwys ontvang).
Daarom benodig ons nou dringend u samewerking as ouers.  Al die kwessies rondom Covid-19 kan nie deur slegs die skool aangespreek word nie.  Dit is absoluut noodsaaklik dat ouers in gesprek tree met hul kinders rakende veiligheidsmaatreëls sodat u eie sowel as ander kinders en onderwysers se gesondheid en veiligheid ten beste beskerm kan word.
Help ons assseblief deur die volgende met u kind deur  te werk en te beklemtoon:
'n Masker moet TE ALLE TYE gedra word by die skool. Ons beveel dit baie sterk aan dat ouers van graad R-6 leerders hul kinders by die huis "oefen" om 'n masker te dra vir sekere tye net sodat dit by die skool nie so 'n groot aanpassing sal wees nie.
Sosiale afstand moet deurentyd gehandhaaf word met maats en
onderwysers.
Hande moet gereeld gewas word met seep en water. U is welkom om saniteerders saam te gee skool toe.
Wanneer hulle nies of hoes moet dit in die kromming van die elmboog gedoen word en nie in hul hande nie.
Hulle mag geensins gebruik maak van ander se skryfbehoeftes, masker, klere of enigiets anders nie. Maak asseblief seker dat u kind AL die nodige skryfbehoeftes het aangesien GEEN leen of uitleen van artikels toegelaat sal word nie
'n Leerder wat verstaan dat lewens gered kan word deur te hou by bogenoemde vyf punte, sal 'n leerder wees wat onder geen omstandighede die grense van die skoolsisteem sal toets nie. Leerders moet ook verstaan dat indien hul nie by die voorgeskrewe veiligheidsmaatreëls hou nie (soos voorgeskryf deur die Departement van Basiese onderwys en die beheerliggaam), dit kan lei tot 'n dissiplinêre verhoor saam met die ouers.
NB:  HOU ASB. U KIND TUIS indien hy/sy enige van die volgende simptome toon:  hoë koors (bo 38 grade); aanhoudende hoes, lyfpyn; hoofpyn; diaree; gastro-intestinale simptome of wanneer hy/sy sukkel om asem te haal.
Dit is ook van kardinale belang dat u 'n verpligte komorbiditeitsvorm voltooi (komorbiditeit- onderliggende siekte).  Hierdie vorm is beskikbaar op die skool se webblad:  www.dewetsdorp.co.za, Facebook asook Whatsapp groepe. Volg bloot die skakel en voltooi die vorm: https://forms.gle/9ZVMv9KJ1DYzfc7H7 . Die vorm moet asseblief deur ouers voltooi word.
Bly veilig.
Mnr JH Potgieter
---
2 June 2020
Good morning, Parents of Christiaan de Wet learners
Although the school and hostel are ready to receive our learners, a few administrative arrangements must still be sorted out by the Department of Basic Education before they will allow us to start teaching.
Just a short update:
·         Quarantine for Lesotho learners:  unfortunately, this is totally out of the school's hands.  We urgently appeal to the Lesotho parents to contact one another and then collectively go to the South African Embassy in Lesotho to get the necessary documentation/ permits/information regarding crossing the boarder and going into quarantine.  This may speed up the process.   We really want to start working with our learners.
·         Concerning the phasing in of the rest of the grades, the latest Government  Gazette's (published on 1 June) dates are as follows:
o   Grade 7 and 12: 8 June 2020
o   Pre-Primary, Grade 1, Grade 2, Grade 3, Grade 6, Grade 10, Grade 11: 6 July 2020
o   Grade 4, Grade 5, Grade 8, Grade 9: 3 August 2020
Due to the unpredictability of the Covid-19 situation in South Africa, these dates might change again. We will keep you updated.
31 MAY 2020
Good evening, Students and Parents of Christiaan de Wet
Due to still waiting for the minister's final decision concerning the the re-opening of all schools, I advice ALL GRADE 7 and 12 learners to NOT return to school or hostel on Monday, 1 June 2020.
I will keep you informed on a daily basis.
Stay healthy!
Mr Potgieter
---
SCHOOL SONG
Hier waar die Vrystaat sy heuwels versprei het
Hier in 'n landskap so wyd en so vry.
Staan ons skool wat ons toekoms berei het.
Kennis en liefde van oral verkry.
Give me the best of your knowledge so wide.

You are the fountain of wisdom and pride.
Open my mind so clearly to see what
All the future is holding for me
Shoulder to shoulder we cherish our school's name.
Christiaan de Wet you're the key to our light.
Werk en volhard is ons leuse en strewe.
Trou met die blik op die toekoms gerig.
WORK AND PERSEVERE
WORK AND PERSEVERE